NORTH SHERIDAN RD. CHICAGO, IL
HIGH-RISE CONDO
BEFORE
The clients of this condo were ready for an open concept kitchen. The existing kitchen was just a box within a box that spoiled the fantastic views of Lake Michigan.
When you first entered the condo you were met by a wall that separated the kitchen from the living room. This created an enclosed space that was not current with todays way of living.
The tiny eat in nook was the only view from the kitchen. The space was awkward and did not serve a viable purpose.
The kitchen was functional but we wanted more…we needed a view.
AFTER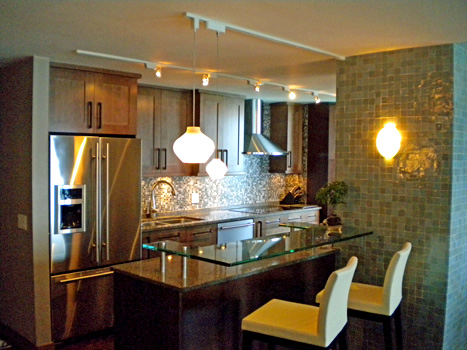 Removing the walls of the kitchen allowed for the open concept kitchen that the client's yearned for. The major column in the space went from hidden to a feature wall. The entire column is covered in a blue Ann Sacks tile, bringing the outside colors of the lake and sky inside.
The kitchen was now able to receive gorgeous custom cabinetry from Holiday Kitchens that includes a hidden under-counter refrigerator.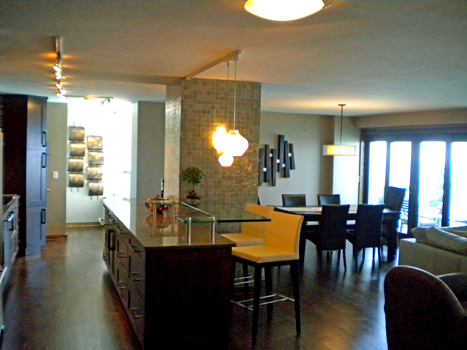 In order to avoid the bulky look of soffits to house certain lighting, we went with white track lighting against a white ceiling.
Where there was once a pantry, now stands a double oven that also includes storage space. The small eat in nook is now home to a stackable washer and dryer.
CHICAGO, IL
RIVER FRONT TOWN-HOUSE